NCM102Ah 1P6S VDA MODULE
- NCM102Ah 1P6S VDA MODULE for use in electric powered mobilities.
- The system consists of Lithium-Ion-Cells, connected in series to reach the system voltage and in parallel to achieve greater capacity .
- The battery system voltage and capacity can be verified by different combination of modules.
Product Description


LITHIUM STORAGE supports offering standard battery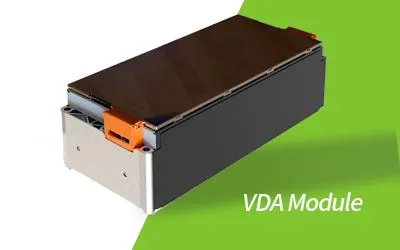 modules and customization of battery modules based
on LFP/NCM prismatic cells, including the structure
of the banding module and frame welding module.
The high structural strength of the frame welding
module meet harsh vehicle operating conditions,
and the high flexibility of the banding module
meets a wide range of dimension requirement.

No.
Items
Note
1
Nominal voltage(V)
22.2
2
min
16.8
3
max
25.8
4
Nominal capacity(Ah)
102
5
Nominal energy(KWh )
2.2644
6
≥2.219
7
Group mode
1P6S
8

End of life residual capacity (Ah)

81.6

Residual capacity

≥

80% initial capacity

,

@25

℃

9
Module weight(kg)
10
Maximum continuous charge current(A)
102
11

Maximum short pulse charge current

(≤

10s

)

204
12

Maximum continuous discharge current

(

A

)

102
13

Maximum short pulse discharge current

(≤

10s

)(

A

)

306
14
SOC operating range(%)
10~90
15

Insulation requirements(MΩ)

500V DC

,

High voltage output to battery module

shell, at the normal temperature and humidity

16
17
18
Shipping capacity (SOC)
SOC is consistency in the same batch
19

Voltage difference between cell of module

<

20mV

20
Dimension L (mm)
355
21
Dimension W(mm)
151.5
22
Dimension H(mm)
108.5


01 02
Carton for air transportation and Meeting the UN38.3 package
plywood case for sea transportation standard for dangerous goods
Advantages of NCM102Ah 1P6S VDA MODULE
Light weight
The weight of the VDA module is much lighter than similar products of the same capacity.
High performance
The VDA module has high energy density, low self-discharge, and low internal resistance, which can save the user cost.
Long lasting
Lithium-ion batteries can be charged and used multiple times. NCM102Ah 1P6S VDA modules last longer than traditional batteries.

Unlocking the Potential of Electric Mobility
The NCM102Ah 1P6S VDA MODULE represents a significant advancement in energy storage technology for electric-powered mobilities. With its series and parallel connection, customizable voltage and capacity, reliability, efficiency, and sustainability, this module paves the way for the widespread adoption of electric vehicles and other electric-powered mobilities.
Invest in the NCM102Ah 1P6S VDA MODULE to unlock the full potential of electric mobility. Experience the benefits of enhanced range, reliable performance, and reduced environmental impact. Embrace this innovative energy storage solution and contribute to a sustainable and electrifying future of transportation.
Add.: No.9 East Mozhou Road, Jiangning District, 211111, Nanjing City, China
Tel. : +86 025 8773 9887
E-mail: admin@lithiumstoragebattery.com
You can also click here to contact us to get more details!
Your professional lithium battery power solution provider.