LFP135Ah 1P4S - VDA 355 Module
- LFP135Ah Standard Module is the typical 355 VDA module and is composed of 1P4S LFP79148102-135Ah, data collecting unit of BMS and fixed fittings.
- The capacity and voltage of LFP135Ah Standard Module is 12.8V135Ah.
- Standard module as the standard group structure can be connected in series to expand voltage and in parallel to expand capacity.
Product Description


LITHIUM STORAGE supports offering standard battery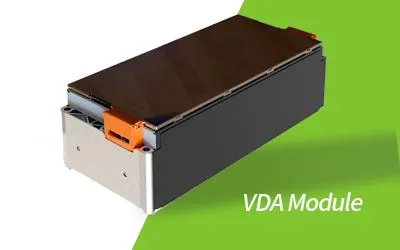 modules and customization of battery modules based
on LFP/NCM prismatic cells, including the structure
of the banding module and frame welding module.
The high structural strength of the frame welding
module meet harsh vehicle operating conditions,
and the high flexibility of the banding module
meets a wide range of dimension requirement.

No.
Items
STANDARD MODULE
Note
LFP135Ah 1P4S-12.8V135Ah
1
Nominal voltage(V)
12.8
2
Operating voltage(V)
min
10
T: 25±3℃
3
max
14.6
T: 25±3℃
4
Nominal capacity(Ah)
135
1/3C,100%DOD
5
Nominal energy(KWh )
1.728
1/3C,100%DOD
7
Group mode
1P4S
8
Module weight(kg)
11.6
9
Maximum continuous charge current(A)
187.2
10
Maximum continuous discharge current(A)
270
11
Maximum pulse charge current(A)
270
@10S,SOC≤70%
12
Maximum pulse discharge current(A)
405
@10S,SOC≥30%
14
SOC operating range(%)
10~90
15
Module cooling method
Natural cooling
16
Module heating method
No
Or heating film
17
Temperature detector qty.
2
18
Shipping capacity (SOC)
50%±5
SOC is consistency in the same batch
19
Temp. Condition(℃)
Charge
0~55
Discharge
-20~55
Storage
-30~55
20
Dimension L (mm)
355
21
Dimension W(mm)
152
22
Dimension H(mm)
108.5
23
Relevant product standard

GB/T 31484—2015

GB/T 31485—2015

GB/T 31486—2015


01 02
Carton for air transportation and Meeting the UN38.3 package
plywood case for sea transportation standard for dangerous goods

Lithium Storage Co.,Ltd
Add.: No.9 East Mozhou Road, Jiangning District, 211111, Nanjing City, China
Tel. : +86 025 8773 9887
E-mail: admin@lithiumstoragebattery.com
Your professional lithium battery power solution provider.